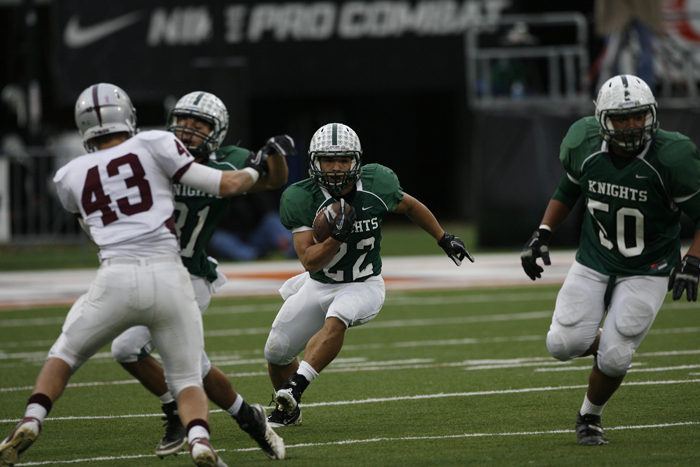 In conjunction with the Illinois High School Association (IHSA) and the IHSA's production partner, PlayOn! Sports, Comcast SportNet Chicago, the television home for the most games and the most comprehensive coverage of the Chicago Blackhawks, Bulls, Cubs and White Sox, has announced it will once again be the home for postseason high school football in Illinois in 2012. This joint partnership will include the airing and live stream of the "IHSA Football Playoff Pairing Release Show" on October 20 and the IHSA Football State Championship games on November 23-24.Comcast SportsNet will be the first media outlet to reveal the first round match-ups of all 256 playoff qualifiers across eight classes during the "IHSA Football Playoff Pairing Release Show," which will air LIVE from CSN's downtown Chicago studios on Saturday October 20 from 8 p.m. to 10 p.m. Fans can also watch the brackets unveiled via live interactive stream on the internet at
IHSA.tv
and
CSNChicago.com
.Five weeks later, Comcast SportsNet will air the culminating event of the season as 16 teams from around the state converge upon the University of Illinois' Memorial Stadium in Champaign. The Class 1A-4A championships will unfold on Friday, November 23, with the Class 5A-8A tilts coming on Saturday, November 24. The first game will kickoff at 10 a.m. each day, with each subsequent game to follow."We are always focusing on providing our viewers with the very best local sports coverage available and being able to feature some of the finest preps athletes in the state of Illinois is something we're definitely excited to showcase once again," said Phil Bedella, VP/GM of Comcast SportsNet Chicago. "The 'IHSA Football Playoff Pairing Release Show' and our live coverage of all eight state title games will be an excellent addition to our already stellar line-up of local sports programming. We also appreciate the support of the IHSA and PlayOn! Sports in helping us make the pairings show and the championships available to our viewers."
"High school football in Illinois is a special tradition," said IHSA Executive Director Marty Hickman. "From the unique playoff pairing show, to the state championships, it is a very special time for so many communities. Comcast SportsNet Chicago's commitment to the IHSA and our member schools means that we will be able deliver a superior product to a larger audience in Illinois and beyond."
The pairings show and title games will be distributed to Comcast SportsNet Chicago's entire viewing territory. Viewers are urged to visit CSNChicago.com to find the exact channel locations in their area or the IHSA's channel finder by market.
ADDITIONAL DETAILS FOR "IHSA FOOTBALL PLAYOFF PAIRING RELEASE SHOW" (Sat, Oct. 20 at 8 pm)
Fans will be able to interact with the playoff pairing show in a real-time chat on Saturday, October 20 by visiting CSNChicago.com, where they can make comments or ask questions that may be read on the air. Fans can also interact via Twitter by using the hashtag #IHSA. Teams who are gathering to watch the program are encouraged to submit photos to be shown during the program, by tweeting them with #IHSA or directly to @IHSA_IL or emailing them to mtroha@ihsa.org. All submitted photos will be included in CSNChicago.com's online gallery.
The show will be hosted by Comcast SportsNet anchor/reporter and Downers Grove North High School alum Susannah Collins, along with longtime IHSA TV Network personality Dave Bernhard and Kankakee Daily Journal prep writer & the state's resident high school football bracketologist, Steve Soucie.
The show will feature:
-The release of the 32-team brackets in all eight classes, as all 256 playoff qualifiers find out their first
round playoff opponents and path to Champaign for the first time.
-Highlights from nearly 100 schools from around the state
-Analysis from experts on nearly 100 teams from across Illinois
-Live look-ins and photos from schools hosting playoff pairing parties
-Interviews with coaches and media
-State Championship game picks from a statewide media panel
-CSN Interactive segments with fans
Nicole Darin will host IHSA on CSN Interactive, a live web stream and chat that will offer viewers the opportunity to interact directly with Collins, Bernhard and Soucie. Viewer questions and comments will be featured throughout the show and posted on CSNChicago.com.
Follow IHSA on Twitter at @IHSA_IL (#IHSA)
Follow CSN Chicago on Twitter at @CSNChicago
Become a fan of IHSA on Facebook at www.facebook.com/IHSA.IL
Become a fan of CSN Chicago on Facebook at www.facebook.com/CSNChicago